Welcome To
Grand Kampar Hotel
Your Comfort Is Our Priority
Grand Kampar Hotel is a remarkable 3-star deluxe hotel situated in the enchanting town of Kampar, nestled within the picturesque Kinta Valley of Perak, Malaysia. Offering a convenient location in close proximity to the renowned Cameron Highlands, the hotel presents an ideal base for travelers to explore the beauty of the region.
Boasting an impressive Spanish architecture, Grand Kampar Hotel stands proudly in the heart of Taman Bandar Baru Kampar, a rapidly developing township in the area. With a rich history dating back to its establishment in 1887, Kampar was once a thriving center for the tin mining industry. The town's name, derived from the Cantonese words "kam pou," translates to "precious gold," paying homage to the extensive tin reserves that were once abundant in the region.
The hotel enjoys a strategic location near prominent educational institutions such as University Tunku Abdul Rahman (Main Campus) and Tunku Abdul Rahman University of Management and Technology (TAR UMT), making it a preferred choice for visiting academics, students, and parents. Additionally, the hotel's proximity to banks, corporations, and factories further adds to its convenience for business travelers.
Guests of Grand Kampar Hotel will also appreciate the diverse culinary options available within walking distance. A wide variety of restaurants and bistros are conveniently situated nearby, offering an array of delectable cuisines to satisfy every palate.
For those seeking outdoor adventures and eco-recreational activities, the hotel's location provides easy access to a host of exciting pursuits. From bird watching and trekking to fishing, caving, and even white water rafting, there are abundant opportunities to immerse oneself in the natural wonders of the region.
Whether traveling for business or leisure, Grand Kampar Hotel offers a comfortable and welcoming haven amidst the charm and splendor of Kampar, ensuring a memorable stay for all guests.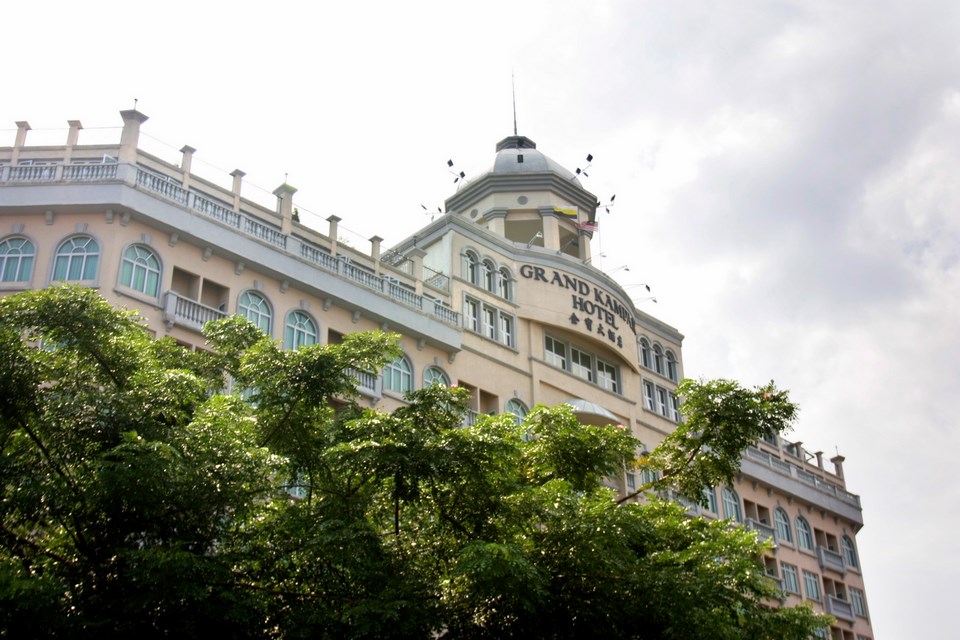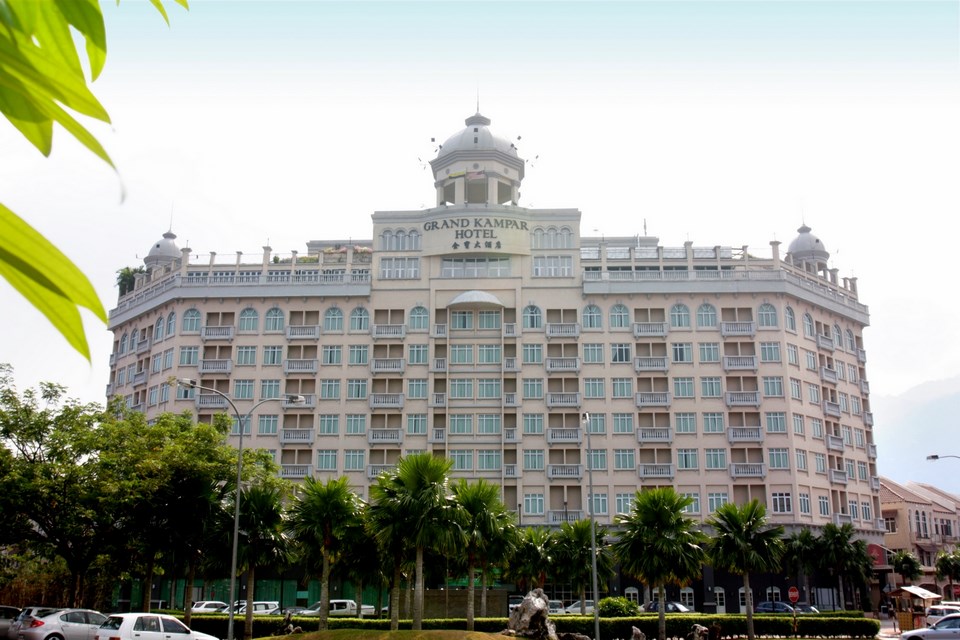 The Grand Kampar Hotel is truly a delightful hotel to stay. The stylish, yet peaceful ambience of the hotel is accentuated by its Spanish architecture.
Welcome to Grand Kampar Hotel, where your comfortable accommodation in Kampar awaits. Our hotel boasts 155 rooms across five categories: Standard Deluxe, Executive Deluxe, Triple Deluxe, Family Suite, and Executive Suite. Each room is thoughtfully designed and equipped with modern amenities to ensure a pleasant stay.
Indulge in a delightful dining experience at our in-house restaurants. The cozy atmosphere of GK Cafe offers a variety of Asian and Western cuisines, while Mines Restaurant specializes in delectable Chinese dishes. For an authentic taste of Kampar, venture out to the streets and savor local delights such as the famous Kampar Chicken Biscuit, Curry Chicken Bread, and Kampar Fishball Noodle.
During your stay, explore the rich history of the region at the Kinta Tin Mining (Gravel Pump) Museum, located within walking distance. Immerse yourself in the golden era of the tin mining industry and gain a unique perspective on Kampar's past.
If you're planning a special event, Grand Kampar Hotel is the ideal venue for banquets, conferences, or weddings. Our function rooms cater to various group sizes, ranging from intimate boardroom meetings to gatherings of up to 550 people. The hotel also offers a Business Centre to fulfill your professional needs. Stay connected with complimentary Wi-Fi available in all rooms and function halls. Limited free parking is available, and guests parking in designated areas should obtain a parking ticket from the Local Council (Majlis Daerah Kampar) or utilize the park@Perak phone app.
Embrace the delightful ambiance of Grand Kampar Hotel, characterized by its charming Spanish architecture. Conveniently located, Kampar is situated approximately 169 km north of Kuala Lumpur, 30 km south of Ipoh, and 85 km east of Pangkor and Lumut. In your leisure time, immerse yourself in nature by embarking on a refreshing trek, fishing excursion, or bird-watching adventure. Alternatively, take a moment to unwind and reflect on your day spent exploring Kampar while enjoying the cool evening breeze.
We look forward to providing you with an exceptional stay at Grand Kampar Hotel.